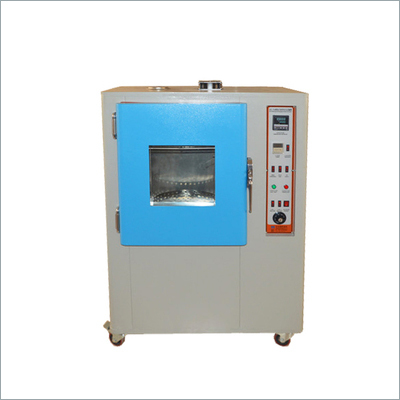 Anti-yellowing aging tester
Product Description
Anti-yellowing aging tester

1. Function:
Anti-yellowing aging tester can promote the increase of sulfur rubber deterioration, to calculate the change rate of tensile and elongation before and after heat. Its generally thought that test for one day at 70C, in theory as exposed to the atmosphere for 6 months.
Anti-yellowing: Anti-yellowing aging tester stimulates the atmosphere environment, driven by the sun ultraviolet radiation. Its generally thought that the appearance change at 50C for 9 hours, in theory as exposed to atmosphere for 6 months.
2. Specifications:
Standard:

JIS-P8127; ASTM D1148

Inner Box Size:

505060cm

Temperature Range:

Normal Temperature~200C

Control Mode:

Automatic Calculation Controller

Temperature Display:

0.1C

Control Accuracy:

3C

Distribution Accuracy:

1C(at-100C)

Time Memory:

0-999 hours, Power Failure Memory Type, with Buzzer

Wheel Speed:

45cm,102 round/ min

UV Light Source:

UV300W Bulb

Standard Accessories:

Shelf Board 2 pieces

Heating Method:

Hot Air Circulation

Security Devices:

Over-temperature power-off indicator light;
Safety overload switch ammeter

Manufacturing Material:

Internal Stainless Steel SUS304;
External Advanced Baking Varnish

Outside Dimension (LWH):

11494130cm

Weight:

140kg
3. Features:
1) To simulate outdoor weathering, the UV aging testersexposes materials to alternating cycles of UV light and moisture at controlled, elevated temperatures. It simulates the effects of sunlight using special fluorescent UV lamps. It simulates dew and rain with condensing humidity and/or water spray.
2) The UV accelerated weathering tester is the simplest, most reliable, and easiest to use weathering tester available. With thousands of testers in use worldwide, it is the world's most widely used weathering tester.
4.Structure:
1. The inner bladder of the chamber is made of imported high-class stainless steel plate while the outer bladder is made of A3 steel plate sprayed with plastic.
2. The heating mode adopts inner bladder trough type heating with its rapid temperature rise and even temperature distribution.
5.Control System:
1. Adopts black aluminum plate to connect temperature sensor and adopts black board temperature meter to control heating so as to ensure more stable temperature.
2. The radiometer probe is fixed so as to avoid the frequent installation and disassembly.
3. The radiation quantity adopts the special UV irradiatometer with high-precision display and measurement.
Trade Information
shenzhen

1-10 Sets Per Month
30 Days

Each set protected with resin fiber and PP film, then put into Strong wooden case with operation manual and video inside.