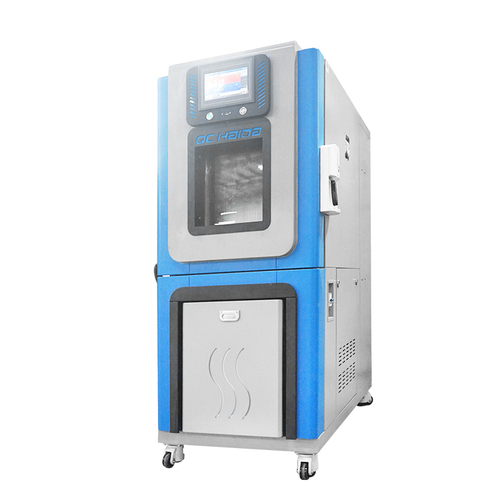 Humidity Test Chambers
Price And Quantity
Product Specifications
-70~+150℃ Planck temperature (Θ)

1℃/min in average (without loading)
Product Description
Product description:
Humidity test chambers can simulate a full range of humidity conditions 20%~98%R.H.in the 150L workspace. Humidity Test Chambers as a one of environmental .In order to meet the customer's different test samples, we can provide different sizes of humidity test workspace style equipment like 100L/150L/225L/408L/800L/1000L (can be customized).
In order to satisfy the customer testing requirements.This Humidity Test Chambers increased the temperature test, the range of temperature test in -70 ~+150 the important point is providing a high performance, economic and environmental protection, high quality, accurate test results for our customer.
Test standard(inculding but not limited to... ):

Application Industry:
Textile fabric products: clothes, hats, shoes, ropes
Wire and cable: data cable, usb,
Leather products: handbags, wallets, leather shoes, leather chairs
Instrumentation, vehicles, plastic products, metal,
Food, chemical, building materials, medical, aerospace
Applications:

Cyclic test includes climatic conditions: holding test, cooling-off test, heating-up test, moistening test and drying test
Cable port with flexible silicone plug for cable routing to provide the condition of test unit under operation
Uncover test unit weakness in a short-term test with accelerated time effect
Chamber Design Features:

Fully enclosed structure, low noise refrigeration equipment, with anti-shock system. So that constant temperature and humidity in the detection process more quiet and stable
With high temperature defogging function and transparent window light lighting. You can clearly see the sample to detect the situation inside the box.
A variety of protection devices, safe and reliable performance.
Built-in dusty barrels of water tank, not rust, easier to clean and clean.
The inner compartment of the inner compartment can adjust the height. Meet different sizes of samples
Four corners of the box with a large arc angle design. Easy to clean.
3 layers of vacuum tempered glass window.
Economic and efficient
Intelligent programming operating system
Programmable Controller:
rogrammable Control system have a CD touch screen, a programmable control temperature and humidity system.so it can set different parameter for cyclic test.
1. PIC controller for test chamber
2. Step types include: ramp, soak, jump, auto-start, and end
3. RS-232 interface to connect computer for output


Related Products:

We are able to produce and sell climatic chamber of different sizes and different detection parameters.

Climatic Chamber Type:

Specification

ChamberSizeandWeight
(W*D*H mm/kg)

Number

experimental
space

HD-E702-100
climaticchamber

volume:100L

Temperaturerange:-40 ~150

Humidityrange:20%~98%RH




Internaldimension:400*500*500

Externaldimension:600*1080*1380

Weight:150KG




Temperaturerange:-70 ~150

Humidityrange:20%~98%RH




Internaldimension:400*500*500

Externaldimension:600*1280*1380

Weight:200KG




HD-E702-150

climaticchamber

volume:150L

Temperaturerange:-40 ~150

Humidityrange:20%~98%RH




Internaldimension:500*500*600

Externaldimension:700*1080*1480

Weight:200KG




Temperaturerange:-70 ~150

Humidityrange:20%~98%RH




Internaldimension:500*500*600

Externaldimension:700*1280*1480

Weight:260KG




HD-E702-225
climaticchamber

volume:225L

Temperaturerange:-40~150

Humidityrange:20%~98%RH

Internaldimension:500*600*750

Externaldimension:700*1180*1630

Weight:300KG




Temperaturerange:-70~150

Humidityrange:20%~98%RH




Internaldimension:500*600*750

Externaldimension:700*1280*1630

Weight:360KG




HD-E702-408
climaticchamber

volume:408L

Temperaturerange:-40~150

Humidityrange:20%~98%RH




Internaldimension:600*800*850

Externaldimension:800*1380*1730

Weight:400KG




Temperaturerange:-70 ~150

Humidityrange:20%~98%RH




HD-E702-800
climaticchamber

volume:800L

Temperaturerange:-40 ~150

Humidityrange:20%~98%RH




Internaldimension:1000*800*1000

Externaldimension:1500*1180*1900

Weight:600KG




Temperaturerange:-70 ~150

Humidityrange:20%~98%RH




HD-E702-1000
climaticchamber

volume:1000L

Temperaturerange:-40 ~150

Humidityrange:20%~98%RH




Internaldimension:1000*1000*1000

Externaldimension:1500*1380*1900

Weight:700KG




Temperaturerange:-70 ~150

Humidityrange:20%~98%RH
Trade Information
1-10 Sets Per Month

30 Days