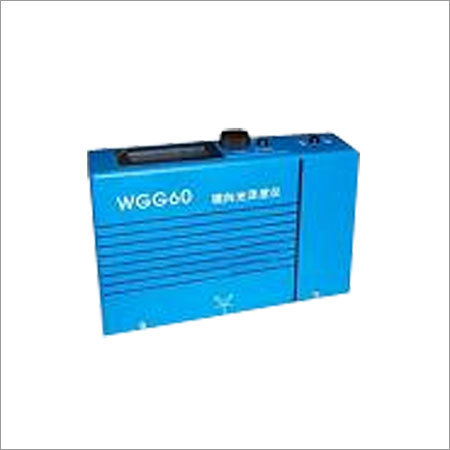 Konica Minolta Colorimeter
Product Description
We are manufacturing and exporting a wide range of Konica Minolta Colorimeter or Colorimeter HD-X003-(CR400). This new colorimeter CR-400 is a generally perceived and acclaimed CR-100, CR-200, CR-300 arrangement successor. It has a great deal of extra components, more flexible, however completely held the every single optical trademark, so ensure you can trade information with the past model. CR-400 measuring region of 8mm, appropriate for measuring different enterprises reflected shading and shading contrast. Also, this can meet the fixings, nourishment, crude materials, completed products, medications and dermatology, and numerous different applications. Konica Minolta Colorimeter "CR-400", "CR-410" colorimeter can be measured by measuring the head monomer, which has high precision and are flexible and simple to work.
Sort - intelligent shading estimation
Primary utilize: paint, elastic, plastics, printing, fiber, coloring, nourishment, farming, ranger service, fisheries, pottery, nitrogen items, private development, medicinal and scholarly fields
Colorimeter Products
Prestigious shading colorimeter arrangement - all the more effective and different
Colorimeter from the acclaimed arrangement, all the more intense and differing.
Colorimeter Main Specifications :
Name colorimeter measuring head
Show CR-400 measuring head CR-410 measuring head
Lighting/accepting optical framework d/0 (diffuse enlightenment light opposite way; specular segment included)
(With JIS Z 8722 standard; including consistent reflection light) vast range lighting vertical light way; specular segment included)
Light sub-prime silicon photocell (6)
Show go Y: 0.01% ~ 160.00% (reflectance)
Measuring light source beat xenon circular segment light
Measuring time 1 s
The most limited interim of three seconds can be resolved
Quantifiable recurrence around 800 circumstances (my organization under determined conditions)
Estimation/enlightenment range Φ8mm/Φ11mmφ50mm/Φ53mm
Repeatability standard deviation ΔE * abdominal muscle 0.07 or less (in 10 seconds after white alignment measured 30 times at interims)
Instrument mistake ΔE * abdominal muscle: 0.6 or less
BCRA Series II 12 hues mean ΔE * abdominal muscle: 0.8 or less
BCRA Series II 12 hues mean
Seeing conditions CIE2 o surmised shading vision capacities, for example,
Perception light source * C, D65
Show * shading values, shading values, pass/cautioning/fizzle
Qualification assurance * shading contrast edge (box/oval basic)
Chromaticity chart/table shading esteem * XYZ, Yxy, L * a * b *, look Lab, L * C * h, Husserl (just illuminant C), CMC (l: c), CIE1994, Lab99, LCh99 , CIE2000, CIE WI/Tw (just illuminant D65), WI ASTM E313 (just illuminant C), YI ASTM D1925 (just illuminant C), YI ASTM E313 (just illuminant C), clients recover (can enlist up to 6 from a PC )
Utilize dialect working catches: English
*LCD: English (default), German, French, Italian, Spanish, Japanese
Spare Data Quantity 1000 information (measuring head and information processor spare distinctive substance)
Shading reference shading 100
Redress Channel * 20 channels (ch00: white adjustment, ch01 ~ ch19: Any rectification)
Illuminated dab network LCD show (15 characters x 9 lines + symbol shows a line)
Interfaces RS-232 standard (association information processor/PC)
* Baud rate: 4800,9600,19200 (bps); manufacturing plant set to 9600bps
Control 4 AAA-estimate basic or Ni-MH batteries
Or, then again the AC connector AC-A17 AC120V 50-60Hz 0.4A (for North America and Japan) AC230V 50-60Hz 0.4A (for nations or areas outside of North America)
Measurements (W x H x D) mm102 x 244 x 63mm
Weight approx 550g
(Counting 4 AAA batteries, barring RS-232C link) approx 570g
(Counting 4 AAA batteries, barring RS-232C link)
Working temperature/dampness extend 0 ~ 40oC, relative moistness 85% or less with no buildup
Capacity temperature/dampness run - 20 ~ 40oC, relative mugginess 85% or less with no buildup
Other LCD backdrop illumination ON/OFF capacity (ON Time: operation key operation or estimation light 30 seconds)

Standard frill White Calibration Plate CR-A43, cover CR-A72, fixing clip CR-A73, AC Adapter AC-A17, 4 AAA batteries White Calibration Plate CR-A44, cover CR-A72, CR-fixing cinch A73, AC Adapter AC-A17, 4 AAA batteries
Other Details :

| | |
| --- | --- |
| Minimum | 1 SET |
| Delivery | 15 days after order. |
| Model | HD-X003-2 |
| Country | China |
| Brand Name | HD |
| Package | Each set protected with resin fiber and PP film, then put into Strong wooden case with operation manual and video inside. |
| Payment | L/C, D/P, T/T |
| Price | FOB, CIF |