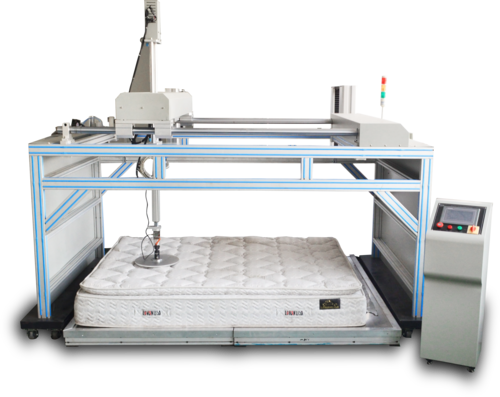 Mattress firttress tester
Product Description
MATTRESS FIRMNESS TESTER(HD-F779)Product description:
Use a spherical protruding at the bottom of the circular rigid plate loading,record force and deflection to analysis,then assess the mattress hardness values and hardness levels.
Features:
The machine can calculate the each test point and perform test automatically after you setting the mattress size.
PLC control,LCD touch screen interface.
Servo motor with high electric actuator.
The main parameters:
The platen weight and diameter: a round aluminum disk weighing 8±0.2lb(3.6±0.1kg) with a diameter of 13.54±0.2in.(344±5mm).
Test speed: 50mm/min.
Test position: five point.
Test stroke: 12.5, 25, 38, 50, 63 and 76mm.
Power: 1 phase,AC 220V,50/60Hz.
Design standards:ASTM F 1566.
Trade Information
1 Week

Each set protected with resin fiber and PP film, then put into Strong wooden case with operation manual and video inside.