Ozone aging test chamber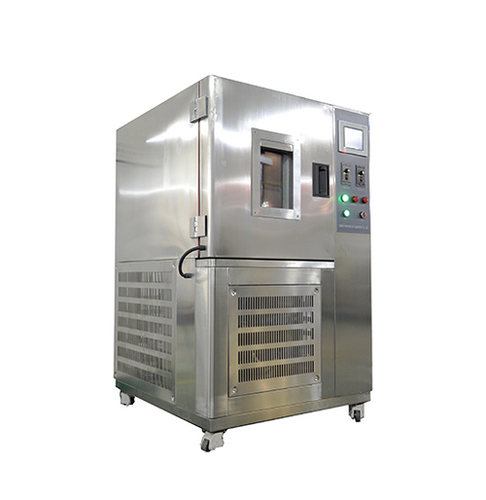 Ozone aging test chamber
Product Description
Product introduction
Ozone aging test chamber is a major factor in rubber cracking although it is rare in the atmosphere, ozone aging tank simulates and enhance the condition of ozone in the atmosphere to study the effects of ozone on rubber, and then identify and evaluate the method to resist ozone and aging for rubber, adopt effective anti-aging measures to enhance the life of rubber products.
Main function
Ozone Aging Test Chamber Can be used to test rubber products with static tensile deformation, such as vulcanized rubber, thermoplastic rubber, cable insulating bush; expose the test specimens to the sealed air in the test chamber without light and with constant ozone concentration and constant temperature according to predetermined time, and then observe the cracks on test specimens surface and the degree of change of other properties to evaluate the rubbers ozone aging resistance properties.
Main feature
Equipment by the occurrence of silent and efficient ozone generator ozone gas, and a certain amount of air processed, the switch in the mixture into the chamber, the continuous line UV detector to detect the concentration of ozone, ozone generator control feedback to the systems to control system settings according to the occurrence of effective control of ozone to the ozone chamber to maintain the appropriate concentration of work by heating humidification systems to meet all the test conditions.
The main technical parameter:
Studio size(L*W*H)

500*600*500mm(150L)

400*500*500mm(100L)

ozone concentration

0 ~ 1000pphm, PID settings(adjustable)

ozone concentration deviation

5%

Test sump temperature

RT ~ 85(Recommended temperature 40 )

est Position Humidity

20 ~ 85 (recommended humidity 65%)

Temperature uniformity

2

rack rotation speed

2R/min adjustable

sample pulled Frequency

0.5Hz

Supply voltage

220V 10%

Standard: JIS K 6259 , ASTM1149 , ASTM1171, ISO1431, DIN53509
Trade Information
Shenzhen

1-10 Sets Per Month
30 Days

Each set protected with resin fiber and PP film, then put into Strong wooden case with operation manual and video inside.