PC Control Tensile Tester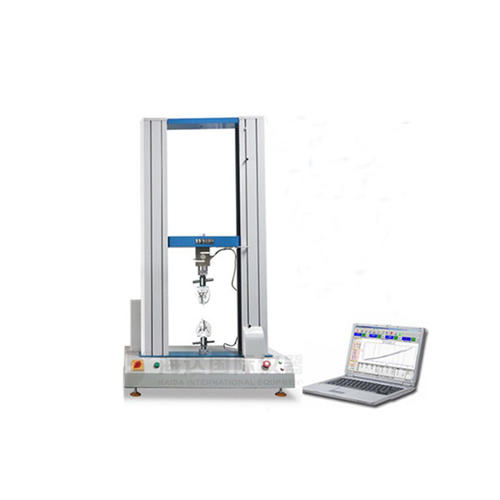 PC Control Tensile Tester
Product Description
PC Control Tensile Tester


Product Description


PC Control Tensile Teste The operation is simple, the entire computer control, PC data analysis, data save and print, visual strength change in the testing process.

Standards:

Main Technical Parameter

Description




Max.Force

2000 kg (20KN)

Load cell

Germany brand load cell for high accuracy

Control system

PC with windows 7 system

Motor

Panasonic servo motor w/ DC variable speed drive system, high-precision mechanical ball screw rod

Force reading

kgf, Ibf, N, KN, T etc

Stoke

1200mm including fixture

Load cell Resolution

1/250,000

Load Precision

0.5%

Test speed

0.1 500mm/min (adjustable)

Test width

400mm

Software

TM 2101

Curves display

Load- elongation, Elongation-time, Time-elongation, Stress-strain

Data display

Max. force, speed, sample information, strength(Kpa, Mpa, N/mm, N/mm2) etc

Safety features

E-Stop

Over-load protection

Upper and lower limit switches

Load sensor with automatic retreat

Product Features:
Displacement resolution: 0.001mm
Control system: a, computer control with TM2101software;b, Back to origin automatically after the test, c, store data automatically or by manual operation
Motor system: AC Motor +Driver +High precise ball screw (Taiwan)
Graph scale automatic optimization can make graph to display with best measurement and can implement graphics dynamic switching in the test and has force-elongation, force- time, elongation -time, stress - strain.
It can save results automatically after test finished, and it is manual filing. It can display maximum force, yield strength, compressive strength, tensile strength, elongation, peel interval maximum, minimum and average, etc.
User can set parameters of product material such as length, width, thickness, radius, area and so on.
Many languages random switching: Simplified Chinese, Traditional Chinese, and English
Applications:
Compression Test
Peel Test
Bend Test
Tear Test
Shear Test
and customizable test properties
Installation and adjustment:
the test machine from its packaging, check whether the crash test machine in transit, damage phenomena
the test machine on a sturdy platform or desktop, look for the standard instrument is making the instrument in a horizontal position.
check whether the supply voltage is AC220V, the voltage difference is not less than 5% of the standard voltage, the power cord must be grounded
Trade Information
Days

Each set protected with resin fiber and PP film, then put into Strong wooden case with operation manual and video inside.