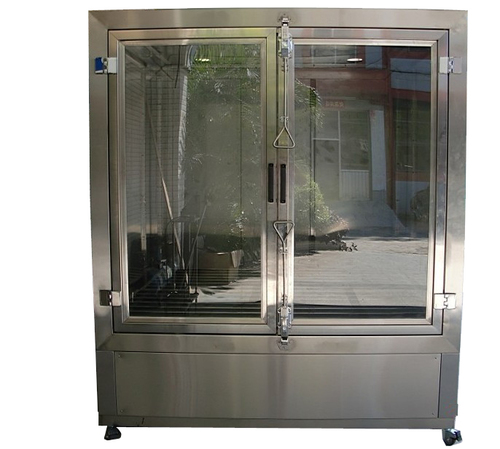 Rain spray test chamber HD-E710
Product Description
Feature:
Studio equipped with lighting equipment
Rain time, interval time, rainfall intensity, regulate and control apart.
The main technical parameters:
Spray ring radius: 375 and 500mm
Water pipe diameter: φ16mm
Spray orifice diameter:φ0.4mm
Aperture spacing:500mm
Swing pipe : ±45°、±60°、±90°、±180°(theory number)
Test stands rotate speed : 1r/min(can be no quarter speed adjustment)
Controller:Import FM type inverter
Times controller:Import programmable computer integrated time controller (Jin Zhong Mo le)
Water pressure control: flow gauge
Observation plane:Large area of toughened glass door visualization
Water supply system, booster pump, water storage
Safety protection leakage, Short circuit, Motor overheating
Power supply:110V, 60HZ
Chamber structure:
The outside layer is composed of the high quality stainless steel plate, the inner container is the composed of stainless steel tabula rasa.
Large area of visible glass door, easy to observe the test specimens in the testing chamber
The button is made of high quality of tank, can be fixed PU activities wheel, it is convenient for user moved.
With 270 degree swing pipe & 360 degrees whorl pole water jet device.
Adjustable speed samples stage.
Trade Information
30 Days

Each set protected with resin fiber and PP film, then put into Strong wooden case with operation manual and video inside.