Safety Footwear Impact Tester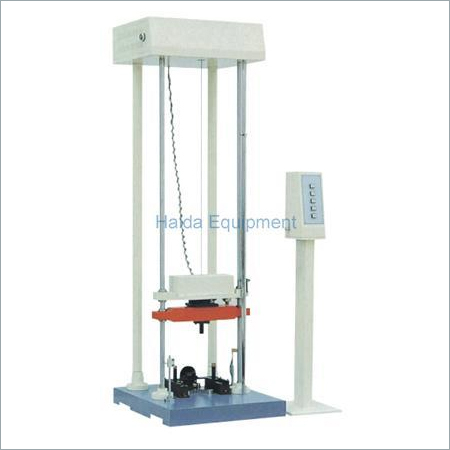 Safety Footwear Impact Tester
Product Description
Safety Footwear Impact Tester
Description:
Safety Footwear Impact Tester can be used for a variety of impact (drop) tests with the appropriate anvils and strikers. It is ideal for testing to the safety footwear standards and meets the full requirements of the latest revisions to the standards.
This machine incorporates many new features, including motorised lift of the striker mechanism which moves automatically to a pre-set height and now incorporates a speed sensor that will determine if the correct impact energy has been achieved. It complies with EN, ANSI, BS, CSA regulations. Impacting the the steel toe caps of satety shoes through 100J or 200J power, then observe the sinkage to value its quality. The design is different among EN, ANSI, BS, CSA, so please prescribe the regulation when ordering.
A new slide mechanism ensures minimum frictional losses and it also incorporates a belt drive system to provide the striker drop height position. New guarding provides complete operator safety while giving full access to the anvil area for ease of setting up each test. An anti-bounce device prevents a double impact strike on the footwear under test.
Specifications
Meet standard of EN, ANSI, BS, CSA
Use friendly &easy operation
Motorised lift of the striker mechanism
Short delivry
Specification:
Drop hammer weight

(EN)200.2kg, (BS, ANSI) 22.7kg

Falling altitude

(EN)0-1100mm

Impact capability

(EN)200J, (BS, ANSI)1002J

Impact blade ring

(EN)30.1mm R, (ANSI)25.4 D

Horsepower

AC 1/8HP

Volume-mainframe

21.5*19*12.6

Weight

227kg

Power

3AC380V

Design criteria

BS-953, 1870, EN-344, ANSI-Z41
CSA-Z195, ISO8782
Trade Information
15 Days

Each set protected with resin fiber and PP film, then put into Strong wooden case with operation manual and video inside.