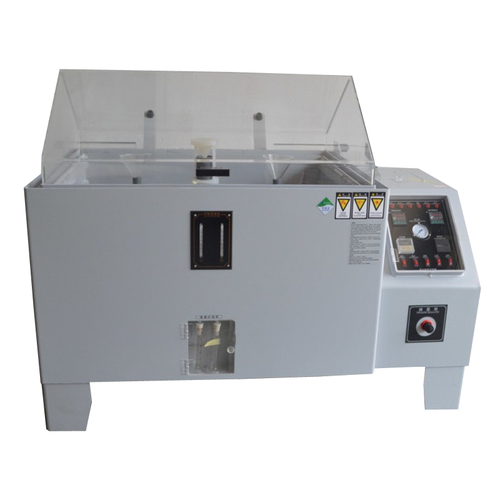 salt spray chamber HD-E808-90
Product Description
Salt spray chamber


Chamber Description:


Salt spray test is an international certification standardization and popular corrosion test method for checking the corrosion resistance of materials and surface coatings.
HAIDA salt spray chamber is the inexpensive, fastest, standard and repeatable ,mainly used to detect salt spray corrosion resistance of the material or material surface coating which often in corrosive environment . The HD salt spray chamber is equipped with an intelligent salt spray test system that enables quick and standardized conversion of test modules. Automatically adjust the test temperature in the workpeace (Salt Spray Method (NSS ACSS) 35 ± 1 ° C, Corrosion-resistant Testing Method (CASS) 50 ± 1 ° C).


Applicable Standards:
ASTM B117, ASTM G85, ASTM D1141-98
DIN EN ISO 9227 (NSS, ESS, CASS)
DIN 50942, DIN 53 167
ASTM B 117-73, ASTM B 287-74, ASTM B 368-68
DIN EN 60068-2-11
BS 1224, BS 2011, BS3900 F4, BS 3900 F12, BS 5466 Part 1, BS 5466 Parts 2+3
NFX 41002
AS 21331 Section 3.1
SIS 1841190
JIS Z 2371
Application Industry:


Salt spray chamber is mainly artificial simulation of corrosion standard environment, used to test long-term corrosive environment in the material or surface coating corrosion resistance.Salt spray test chamber widely used in hardware, electroplating, electronics, chemicals, automotive, aviation, coatings, wire and cable, circuit boards, communications and other industries.
Salt spray chambers features:
Provides USB Host for USB flash drive
Touch-screen operator control interface.
'Easy Open' pneumatically operated canopy.
Dry seal gasket prevents wetting operator's clothes, etc.
Low loading threshold for loading and unloading.
Large capacity floor standing salt solution reservoir.
Calibration certificate.
Canopy color choice.
Set of sample racks.
Trade Information
SHENZHEN

1-10 Sets Per Month
30 Days

Contact us for information regarding our sample policy
Each set protected with resin fiber and PP film, then put into Strong wooden case with operation manual and video inside.

CE,ISO...