Salt Spray Corrosion Testing Equipment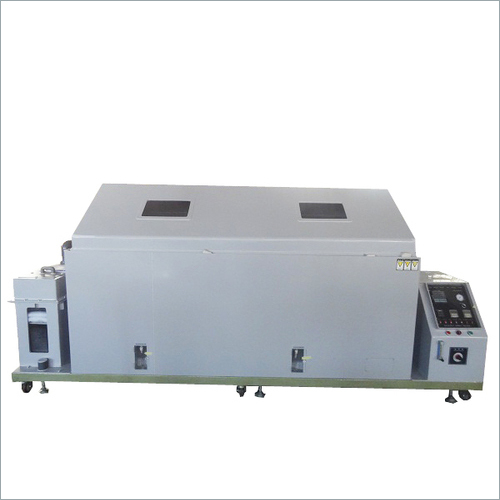 Salt Spray Corrosion Testing Equipment
Product Description
Salt Spray Corrosion Testing Equipment
Specifications
Salt Spray Corrosion Testing Equipment
Durable hard PVC construction ;
reservoir with mixing system on stand
Introduction:
Salt Spray Corrosion Testing Equipment is the use of salt spray corrosion way to detect corrosion, respectively, the reliability of the sample, salt spray refers to the atmosphere by diffusion system composed of tiny droplets of salt, artificial environment of three anti-series one of many companies need to simulate the destructive product of marine climate surrounding the product caused by salt spray chamber so the line should run.
Features:
Local temperature and humidity inside and outside the box are used for A-level gray high-corrosive PVC, for salt spray, copper acetate, and other test specifications Test
It uses the A-level German imports of gray PVC material.
It uses sophisticated Class A gray PVC material designed "V" shape long, products tested by the 15o -30o angle be adjusted.
. It uses a 5mm thick transparent imported high toughness PVC board, bending method designed to cover 100 degree ridge-type transparent with power failure memory function of time, so after the original call time to complete the remaining time of the experimental work, with a double over-temperature protection, water shortage warning, ensure safety
According to JIS, ASTM, CNS, GB standard parameter setting operation.
experiment method
GB / T2423.17-2008 salt spray test method
GB / T 2423.18-2000 "basic procedures for electric and electronic products Test Ka"
GB / T10125-1997 Corrosion tests in artificial atmospheres - salt spray test _
Technical conditions GB / T10587-2006 salt spray test chamber
GB10593.2-1990 electric and electronic products environmental parameters measurements
GB / T1765-1979 Determination of resistance to humidity, salt spray, weather resistance (artificial acceleration) of the film prepared test
Specifications :
Model

HD-E808-200 Spray Testing Machine

Inner Box Size ( LxWxH )

200x100x60 cm

Outside Box Size ( LxWxH )

270x150x150 cm

Equipment Material

Both inside & outside shell adopt imported P . V . C rigid plastic board , and tank cover uses imported transparent P . V . C . rigid plastic board

Temperature Range

35 C 55 C

Temperature Fluctuations

0 . 5 C

Temperature Uniformity

2 C

Temperature Precision

1 C


Test Chamber Temperature

Salt Spray Method ( NSS ACSS ) 35 1 C
Corrosion-resistant Testing Method ( CASS ) 50 1 C

Saturated air Barrel Temperature

Salt Spray Method ( NSS ACSS ) 47 1C
Corrosion-resistant Testing Method ( CASS ) 63 1C

Brine Temperature

35C 1 C

Spray Quantity

1 . 0 2 . 0 ml / 80cm2 / hr

PH

Salt Spray Method ( NSS ACSS6 . 5 7 . 2 )
Corrosion-resistant Testing Method ( CASS ) 3 . 0 3 . 2

Lab Volume

1440L

Brine Tank Capacity

40L

Power

AC220V , 30A

Multiple Safety Protection Devices

Current discharge protection , over pressure protection , over temperature protection , over load fuse protection

Accessories

Testing Salt/ Measuring tank/ Equipment each 1 set

Standard

CNS : 3627 , 3385 , 4159 , 7669 , 8886 ;
JIS : D0201 , H8502 , H8610 , K5400 , Z2371 ;
ISO : 3768 , 3769 , 3770 ;
ASTM : 8117 , B268
Trade Information
Shenzhen China

10-30 Per Month
1 Week

Each set protected with resin fiber and PP film, then put into Strong wooden case with operation manual and video inside.