Salt Spray Test Chamber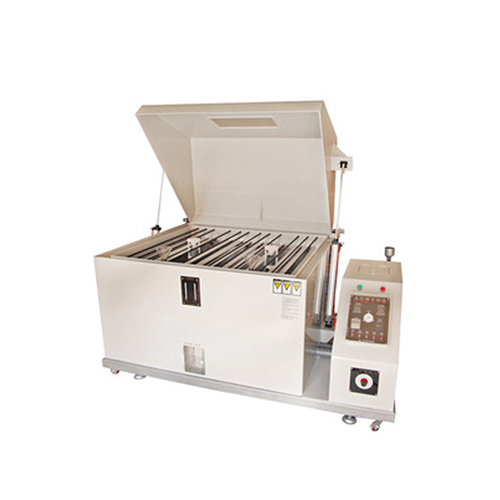 Salt Spray Test Chamber
Product Description
Salt Spray Test chamber Video

Product Description:
Salt Spray Test ChamberStandard Parameters
HD-E808




Internal Size (LxW x H)

900x600x500mm

External Size (LxWxH)

1410x880x1280mm

Equipment Material

Both inside & outside shell adopt P.V.C rigid plastic board

Temperature Range

Room temperature 55

Temperature Fluctuations

0.5

Temperature Uniformity

2

Temperature Precision

1

Spraying method

Continuous and Periodic spray type

Test Chamber Temperature

Salt Spray Method (NSS ACSS)35 1
Corrosion-resistant Testing Method (CASS) 50 1

Saturated air Barrel Temperature

Salt Spray Method (NSS ACSS)47 1
Corrosion-resistant Testing Method (CASS) 63 1

Brine Temperature

35 1

Spray Quantity

1.0 2.0 ml / 80cm2 / hr

PH value

Salt Spray Method (NSS ACSS6.5 7.2)
Corrosion-resistant Testing Method(CASS)3.0 3.2

Lab Volume

270L

Brine Tank Capacity

25L

Multiple Safety Protection Devices

Current discharge protection, over pressure protection, over temperature protection, over load fuse protection

Accessories

Testing Salt/ Measuring tank/Nozzle Equipment x 1 set

Air source

1HP Air pump (provided by buyer)

The table parameters is for the company Standard Model parameters, we support customer customization parameters


Product Feature
Reservoirs with mixing system on stand.
Separate heating system apart from salt testing chamber to ensure accurate result and protect circuit.
Exposure zone lined with corrosion-resistant PVC sheets.
Clear cover allows viewing of test conditions.
Peaked cover prevents dripping of condensation onto samples.
Water seal and water level protection system.
Heated humidifying tower with air relief valve, adjustable tower tip to orient salt fog.
Automatic DI water fills to humidifying tower.
Digital temperature control.
Integral over-protection on heaters.
Low water cut-off protection on humidifying tower.
Trade Information
30 Days

Each set protected with resin fiber and PP film, then put into Strong wooden case with operation manual and video inside.