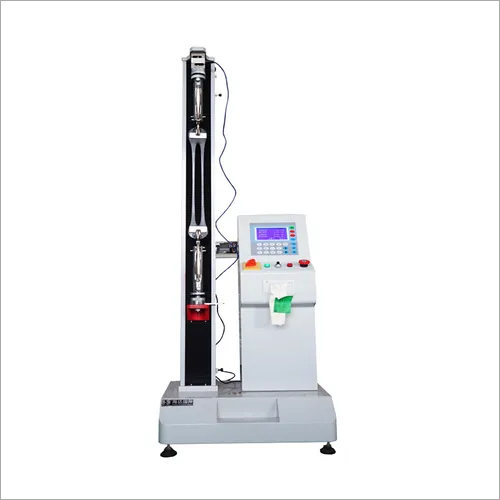 Tape Universal Test Equipment
Product Description
Tape universal test equipment
Description:
This tape test equipment is mainly designed for the detection of various adhesive tape, adhesive tape series in particular.Intelligent detection system in 0.1 ~ 300 mm/min (adjustable) test speed detection tape tear strength.The equipment uses the humanized industrial design, the light weigh, easy to move, can put on the table

This is a simple use of the operating tester, with optional quality control software for automatic calculation and graphic display of breaks, elongation, yield, modulus, and other tension and compression forces of information.

This tape universal test equipment can do tensile test, tear test, peel test, bond test with different clamps main for all kind of tape and paper, film,High-temperature tape, double-sided tape, insulating tape, special tape, pressure sensitive tape, die-cutting tape.


This universal test equipment uses the motor to drive screw to move fixtures. Fix sample between upper and lower fixture and pull sample by the upper fixture upward with specified speed. The load cell connecting with upper fixture will sense the force and then convert it into voltage sign to the display screen. Force value will be displayed automatically on the screen.


Applications:
Deformation under defined load: Test deformation under defined load of tested sample
Load under defined deformation: Test load under defined deformation of tested sample
Software can issue report with results for max. force, elongation, tensile strength, peel strength, tear strength, compression strength, etc.
This tape universal test equipment can do different test as per customer requirement such as peel test, tear test, compression test, bend test with different clamps.
Application Standard(including but not limited to... ):

GB, CE,ISO, ASTM, JIS, DIN and EN, and other multinational standards



Specification:

Item

Description

Force range

2~25kg

Load cell

Germany brand load cell for high accuracy

Control system

LCD / PC with windows 7 system

Stroke

300 mm (Without clamps)

Motor

Servo motor

Force reading

kgf, Ibf, N, KN, T etc

Load cell Resolution

1/250,000

Load Precision

within ±0.5%

Test speed

0.1~300mm/min (adjustable)

Machine size

520 * 515 *1250 mm (L*W*H))

Weight

30 kg

Power

1 phase, AC, 220V

Curves display

Load- elongation, Elongation-time, Time-elongation, Stress-strain

Data display

Max. force, speed, sample information, strength(Kpa, Mpa, N/mm, N/mm2) etc

Safety features

E-Stop

Over-load protection

Upper and lower limit switches

Load sensor with automatic retreat
Trade Information
SHENZHEN

10-30 units Per Month
1 Week

Each set protected with resin fiber and PP film, then put into Strong wooden case with operation manual and video inside.