Thermal Deformation Vicat Softening Point Temperature Tester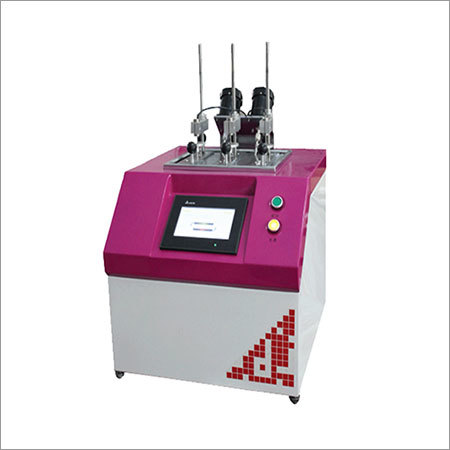 Thermal Deformation Vicat Softening Point Temperature Tester
Product Description
We are the reliable manufacturer and supplier of Thermal Deformation Vicat Softening Point Temperature Tester. This is connected to warm distortion temperature and Vicat softening point temperature assurance of plastic, hard elastic, nylon, electrical protecting material, fiber strengthened composite, high quality thermosetting covered material and other nonmetal materials. It has the upsides of high insight, simple operation and high exactness and it is generally connected to colleges and schools, R&D establishment and quality supervision and review unit. The offered Thermal Deformation Vicat Softening Point Temperature Tester machine is CE confirmed and has a decent deal in numerous nations in Europe and America.
The fundamental capacity:
This temperature analyzer embraces propelled microelectronics and PC control innovation, robotization, and strategies of the benefits of having an item testing process. While as yet accomplishing the number console input, information preparing, CRT show shading bend, having a vast limit information stockpiling and mapping and revealing single printing capacity.
Working standard:
Meet the standard necessities, for example, GB/T 1633, GB/T 8802, GB/T 1634, ISO 2507, ISO 75, ISO 306, ASTMD1525, ASTMD 648and so on.
Item execution:
It embraces PC to control, uprooting sensor to quantify twisting and draw raise time bend;
Do the second treatment for test information on the PC specifically and test information can be leaded in the OFFICE delicate to alter and typeset;
The test casing is made of invar and its misshapening is zero;
The tank is outlined little and its cooling rate is quick, which spare test cost;
Configure full arrangement of weights as indicated by national standard and universal standard.
Combining the tank with blend engine to control temperature consistency;
The tank is introduced with cooling water pipe, which accelerate cooling rate;
The programming created by our organization bolster Windows98/2000/X operation framework. The framework delicate can be introduced on the all PC to utilize and there is Chinese and English interface. The clients can include, overhaul and erase test answer as per their needs;
When set parameters, fill in the parameters as per delicate standard organization and set as far as possible temperature (not as much as test temperature 50);
When align disfigurement, set the parameters and afterward go into misshapening zero setting interface. The test starts.
The disfigurement and temperature estimation alignment should be possible in the delicate framework without working equipment gear;
Users can include and erase the three bends in the test as indicated by their necessities, pick shading openly and split the bends;
For watching temperature, clients can check temperature observing discourse box to watch the temperature in the test procedure;
This machine has elements of warming bend constant show in the test procedure and temperature disfigurement bend continuous drawing and measuring result programmed recognizable proof. It receives database system for test information stockpiling;
It has capacity of consistent temperature, which is connected to high recurrence test and increment test effectiveness;
It can do the test information treatment, test result inquiry, test parameters remedy and test report printing;
Test information can be checked effortlessly and quickly. Contributing temperature can check related misshapening including temperature disfigurement;
Test result can be leaded in the Word alter and send it on the web;
The three test edges can be utilized as a part of the test with all request.
Specialized parameters :
Temperature control extend: - 300oC ambient temperature
Warming rate: (120 +10) oC/h (12 +1) oC/6min (50 +5) oC/h (5 +0.5) oC/6min
Temperature sign mistake: 0.1 oC
Temperature control exactness: 0.5 oC
Greatest distortion sign mistake: 0.01mm,
Disfigurement Measurement run :0-1 .5 mm
Test holder Count: 3
Quality bars and bed stack: 68g
Warming medium: methyl silicone oil (kinematic consistency of 200 centistokes generally chose) or transformer oil
Cooling: regular cooling more than 150, 150 or less water cooling or normal cooling.
Warming force: 4kw
Instrument Size: 540mm 520mm 970mm
Configuration:

Main machine: 1 set
Test casing: 3
Thermal twisting weight head 3
Vicat weight needle: 3
Displacement sensor: 3
Temperature sensor: 1
Computer with great brand: 1 set (512m ddr/80g sata/no floppy drive/dvd/ Incorporation card/mix video/antibiosis waterproof console/photo electricity antibiosis mouse/WIN XP HOME Chinese version,15 LCD)
Color printer with great brand: 1 set
Test delicate in light of the WIN98\2000\XP Chinese form : 1 set
Power line: 1 stick
Signal line: 1 stick

Weights: 1 set
| | | | | | | | | | | | | |
| --- | --- | --- | --- | --- | --- | --- | --- | --- | --- | --- | --- | --- |
| Name Specification | A | B | C | D | E | F | G | H | I | J | K | W |
| Weight (g | 1000 | 900 | 500 | 200 | 100 | 50 | 20 | 10 | 5 | 2 | 40 | 60(load stem |
| Piece | 12 | 3 | 3 | 6 | 3 | 3 | 6 | 3 | 3 | 6 | 3 | 3 |
Note Users should provide cooling water and ventilation and smoke venting equipment.
Other Details :

| | |
| --- | --- |
| Minimum | 1 SET |
| Delivery | 15 days after order. |
| Model | HD-R801-1 |
| Country | China |
| Brand Name | HD |
| Package | Each set protected with resin fiber and PP film, then put into Strong wooden case with operation manual and video inside. |
| Payment | L/C, D/P, T/T |
| Price | FOB, CIF |