Thermal Shock Test Chamber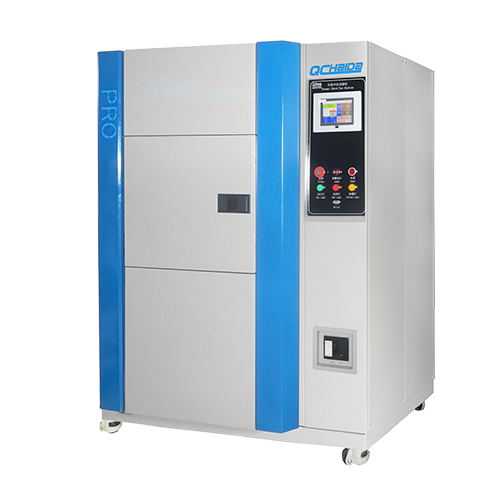 Thermal Shock Test Chamber
Product Description
Thermal Shock Test Chamber
Product usage
High low temperature shock test chamber can be used in testing composite material and material structures result which under continuous environment with high temperature or low temperature shock in short time; it means this product can test the materials chemical change or physics change by expansion and contraction within short time. It's application to metal, plastic, rubber, electronic etc materials and can be used for product improvement's reference.
Features

Perfect outlook upgrades, easy operation

The color touch microcomputer temperature controller was made in Japan which can display Chinese / English Vertical structure with 3 chambers, high low temperature shock cycling can be automatic control, remain and change time can be adjustable, stainless steel inner material, several record methods, it has various safety precautions and device.

With RS-232 interface,connect to PC can control/edit/record and Timer Singal Relay.2 or 3 zone is optional when do thermal shock test.

Fully automatic,high precious,each action control by P.L.C.

The recovery time for this product within 5min and meet MTL, IEC, JIS, GJB etc standard.
The main parameters
Inside dimension

350 x 350 x 400mm can be customized


Outside dimension

1230 x 1270 x 1830mm(can be customized)

Test method

pneumatic Operated Door Switch(2 Working Room Or 3 Working Room)

Temperature Range

-40 ,-55,-65 +150


High Temp Chamber Preheating Range

Ambient~170


Heating speed

35min

Low Temp Chamber Precooling Range

Ambient~-75

Cooling speed

70min

Temperature deviation

2

Temperature range

A:-40+150

55 ~150

65~+150

Temperature recovery time

within 5min

Controller

Operation Panel

Programmable LCD Touch Screen

Program Memory Capacity

100 Programmable

Setting Range

Time:1min~99h59min;Cycle:1-999cycles

Resolution

Time:0.01

Time:1min

Input

T Thermocouple

Refrigeration System

Cooling method

Mechanical Compressor Binary Cascade Refrigeration

Refrigeration compressor

Semi-closed piston

Refrigerant

R23/R404
Trade Information
30 Days

Each set protected with resin fiber and PP film, then put into Strong wooden case with operation manual and video inside.