UV Aging Chamber UVA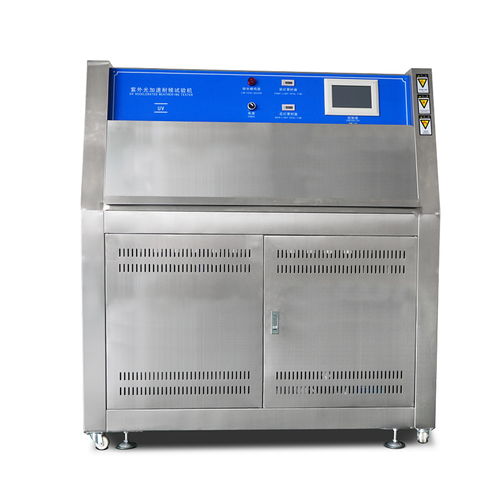 UV Aging Chamber UVA
Product Description
The UV Chamber Description:
The aging test project refers to the process of strengthening the experiment in the condition that the products are related to the aging condition. The UV Aging chamber simulates the damaging effects of sunlight, moisture and temperature on the material, especially for testing the durability of outdoor products or materials.
The UV Aging chamber is able to perform accelerated aging tests on the strengthened UV environment. Imported Atlas 40w/piece UV lamp, UV: 315-400nm (8pcs, 1600h lifetime), test ambient temperature, humidity can be set in intelligent control system. The rate and capacity of water spraying can be set.


Application Industry (not limited to the following):
Paint ink paint, resin, plastic
Printing and packaging, aluminum, adhesives
Motorcycle industry, cosmetics,
Metal, electronics, electroplating, medicine and so on.
Applications Details:
Simulate the sun, rain spray and condensation resulting damage to test the materials by exposure to sunlight with moisture and temperature.
To get the results of damage after several days or weeks which is equal to expose to outside for a few months. The damages include fading, discoloration, brightness down, powder, crack, blur, brittle, strength decreases and oxidation.
Provide reference with testing data for improvement of existing materials, or to assess the impact of changes in product durability and other aspects.
Test Criteria:
ISO 4892-3,ASTM G154...

Standard Features:
Item

Specification

Internal dimension (W*D*H)

1140*650*500mm

External dimension (W*D*H)

1340*700*1800mm

Chamber material

SUS#304 stainless steel

Temperature range

RT to 70

Temperature fluctuation

1.0

Temperature uniformity

3

Humidity range:

75%RH

Controller

Programmable controller, LCD touch screen

Control mode

Balance temperature humidity control (BTHC)

Test cycle setting

Exposure, condensation and water spray test cycle is programmable

Water spray cycle

Spray 18mins in every 120mins / spray 12mins in every 60mins

Water usage

8L/day

Distance from sample to lamp

552mm

Centre distance between lamps

65~70mm

Irradiance range

0.45~0.90W/m2

UV lamps

Imported Atlas UV-A: 315-400nm (8pcs, 1600h lifetime)

Lamp power

40W/Piece

Specimen Size

Irregular sample

Testing time

0~999H, adjustable

Protection system

Overload short circuit protection

Over temperature protection

Water lacking protection

Earth leakage protection

Auto shut off protection

Sell point:

Sample rack height adjustable, measured irregular shape of the sample
Shell liner are made of high quality stainless steel, the sample frame for the aluminum frame frame frame and extension of the spring composition
Programmable controller, LCD touch screen
Bilateral drainage system. To ensure that the box clean, not wet.
About four lamps, the sample put on both sides of the box
Intelligent protection system
Exposure, condensation and water spray test cycle is programmable