UV Aging Environmental Test Chamber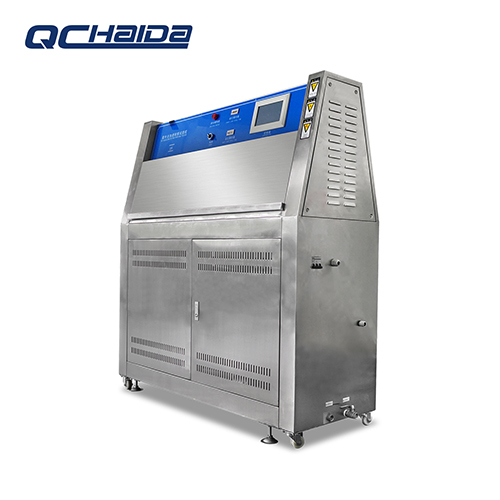 UV Aging Environmental Test Chamber
Product Description
Product description
Accelerated Weather UV aging test chamber simulates damaging effects of long term outdoor UV spectra of sunlight , heat, moisture on materials and coatings. It exposes specimen to varying conditions of weathering- ultraviolet radiation, moisture and heat to test the performance and improve the quality

Accelerated Weather Testing / UV Testing chamber is mainly used in paint and ink paint, resins, plastics, printing and packaging, aluminum, adhesives, car and motorcycle industry, cosmetics, metals, electronics, electroplating, medicine and other fields.
Technical parameters
Specification




Chamber dimension(W*D*H)

1300*500*1460mm

Chamber material

SUS 304 stainless steel

Temperature range

RTto 70

Temperature fluctuation

1.0

Temperature uniformity

3

Humidity range:

75%RH

Controller

Programmable controller, LCD touch screen

Control mode

Balance temperature humidity control (BTHC)

Test cycle setting

Exposure, condensation and water spray test cycle is programmable

Water spray cycle

Spray 18mins in every 120mins / spray 12mins in every 60mins

Water usage

8L/day

Distance from sample to lamp

55 2mm

Centre distance between lamps

65 70mm

Irradiance range

0.45 0.90W/m2

UV lamps

Imported Atlas UV-A: 315-400nm (8pcs, 1600h lifetime)

Lamp power

40W/Piece

Specimen Size

75x290mm (24pcs) /75x150mm (48pcs), maximum thickness 5mm

Testing time

0 999H, adjustable

Protection system

Overload short circuit protection

Over temperature protection

Water lacking protection

Earth leakage protection

Auto shut off protection
The above parameter belongs to the standard machine section, Welcome to customize
Standard configuration
Chamber structure
Control system
Test specimen mounting
The standard test specimen holder accommodates 2 panels 75 x 150mm. The test panels are actual the side wall of the chamber. To properly seal the chamber, it is important to have every panel holder filled with specimens or blank panels and to have panel holders in place.
Design criteria
ISO 4892-3,ASTM G154
ASTM D4587: Standard Practice for Fluorescent UV-Condensation Exposures of Paint and Related Coatings
ASTM D4799: Standard Practice for Accelerated Weathering Test Conditions and Procedures for Bituminous Materials (Fluorescent UV, Water Spray, and Condensation Method)
ASTM D4329: Standard Practice for Fluorescent UV Exposure of Plastics
AATCC TM186: Weather Resistance: UV Light and Moisture Exposure
ASTM D5208: Standard Practice for Fluorescent Ultraviolet (UV) Exposure of Photodegradable Plastics
IEC 61345: UV Test for Photovaltalic (PV) Modules
Trade Information
Each set protected with resin fiber and PP film, then put into Strong wooden case with operation manual and video inside.

All India