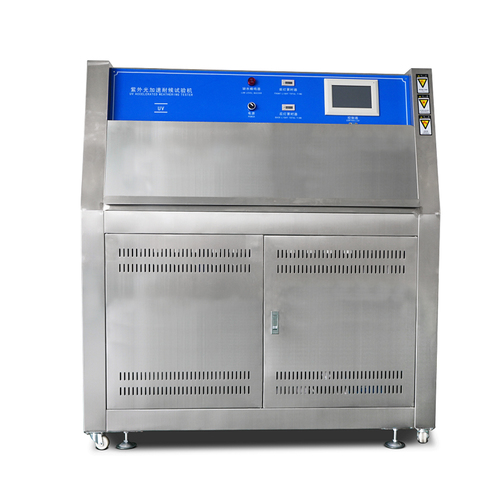 uv aging test equipment
Product Description
PID SSR Control Accelerated Weathering Aging UV Test Machine is applicable for the sunlight resistant test of nonmetallic materials and aging test of artificial light sources. A variety of industrial products can make the reliability test, and this product can simulate the product in the sun, rain, humidity and dew conditions, including damage caused by bleaching, color, brightness down, powder, crack, blur, brittle, intensity decreased and oxidation.
Technical parameters:
| | |
| --- | --- |
| Studio Size | 400W×1140D×390Hmm |
| Outside dimension | 500W×1300D×1360Hmm |
| Materials | Inside and Outside SUS#304 stainless steel |
| Temperature range | RT+10~70°C |
| Temperature uniformity | ±1°C |
| Temperature fluctuation | ±0.5°C |
| Temperature control | PID SSR control |
| Humidity range: | ≥90%RH |
| Controller | Korean TEMI 880 programmable controller |
| Control mode | Balance temperature humidity control (BTHC) |
| Test cycle setting | Illumination, condensation and water spray test cycle is programmable |
| Lamp power | 40W/Piece |
| Distance from sample to lamp | 50±3mm (adjustable) |
| Centre distance between the lamp | 70mm |
| Irradiance | 1.0W/cm2 |
| Wavelength ultraviolet light | UV-A: 315-400mm; UV-B: 280-400mm (8pcs, 1600h lifetime) |
| Effective irradiation areas | 640×1140mm |
| Irradiation black panel temperature | 50°C~70°C |
| Standard Specimen Size | 75×290mm (24pcs can be tested each time) |
| Required water depth for water channel | 25mm, automatically control |
| Testing time | 0~999H, adjustable |
| Power | 220V/50Hz /±10% 5KW |
| Protection system | Overload short circuit protection, over temperature protection, water lackin |
Chamber Structure:
The inner bladder of the UV test machine is made of imported high-class stainless steel plate while the outer bladder is made of SUS 304 steel plate.
The heating mode adopts inner bladder trough type heating with its rapid temperature rise and even temperature distribution.
Control System:
Adopts black aluminum plate to connect temperature sensor and adopts black board temperature meter to control heating so as to ensure more stable temperature.
The radiometer probe is fixed so as to avoid the frequent installation and disassembly.
The radiation quantity adopts the special UV irradiatometer with high-precision display and measurement.
The radiation intensity is not more than 50W/m2.
The illumination and condensation can be controlled independently or alternating and circularly.


Test Specimen Mounting:
The standard test specimen holder accommodates 2 panels 75×150mm. The test panels are actual the side wall of the chamber. To properly seal the chamber, it is important to have every panel holder filled with specimens or blank panels and to have panel holders in place.