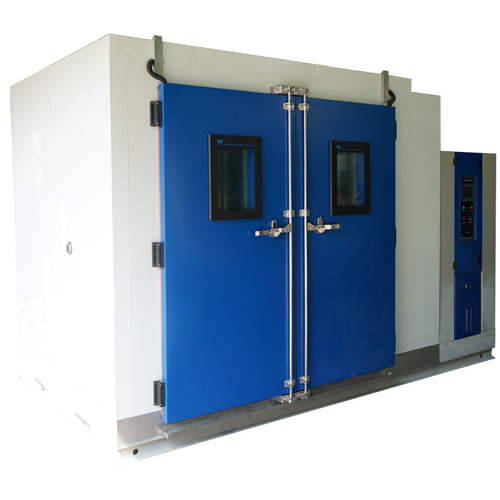 Walk In Environmental Test Chamber
Product Description
walk in environmental test chamber


Product Description:
walk-in environmental test chamber ,as a climatic test chamber that may be configured to almost any large components . this walk in chamber cando Temperature/Humidity Cycling,Constant Temperature/Humidity,Extreme Temp / Humidity Testing, Fast Ramp Rate,Storage Testing,Altitude Testing,Vibration Integration,Solar Simulation etc .

Usage:
walk-in environmental test chamber main for the industry of large parts, semi-finished and finished products of the temperature and humidity testing, such as computer terminals, auto parts. Room temperature and humidity is mainly composed of a control panel, distribution plate, base plate, wet blower, heater, humidifier, refrigerator and.

The main technical parameters:


Professional Walk-in Temperature Humidity Testing Room

Model

HD-E705

System

Balanced Temperature & Humidity Control System

Temp. range

-70°C ~100°C or 150°C

Humid. range

30% ~ 98%R.H.

Temp. & Humid. accuracy

± 0.5°C; ± 2%R.H

Temp. & Humid. regularity

± 2°C; ± 3% RH

Resolution

0.01°C, 2%, P.I.D control

Heating up

-55°C ~ +85°C within 50 min

Heating down

+85°C~ -55°Cwithin 60min

Interior dimension(L×W×H)

100×100×120cm optional

Exterior dimension(L×W×H)

165×150×175cm optional

Interior material

Stainless steel plate(SUS304)

Exterior material

Stainless steel plate(SUS304)

Insulation

Rigid foam

Refrigeration system

Air cooled, Hermetic compressor, single stage refrigeration system.

Display

LCD

Safety devices

No fuse breaker refrigerator over load relay, Refrigeration High pressure Switch, Over Temp, Protector, Protection relay, Protection fuse, Water Lever protector, Overheat protector, Alarm

Accessories

Viewing window, Shelves (freely adjustable 2 pcs.), Cable port(Ø50mm)Chamber lamp.

Power

3#, AC380V 50Hz
Meet the standard:GB10592-89 Technical condition of high and low temperature test chamber GB10586-89 Technical condition of damping test boxGB2423.1-2001 Test A High temperature test methodGB2423.2-2001 Test B Low temperature test methodTest method for constant hot and humid test of GB2423.3-93 testGB2423.4-93 Test Dbetc
Product performance & features:
1.Walk-in chamber has a big temperature / humidity range and can meet user's entire requirement. It adapts to unique balance thermoregulation & humidifying way and can get a safety, precise temperature humidity environment. It has stability, balance heating, humidifying function and also can proceed in high precision, high stability temperature humidity control.
2.Walk-in test room is equipped with high precision intelligentized thermoregulator, temperature and humidity adapt LCD display control 7551 program instrument ( it also can use OYO-5461 according to user requirement), can choose the temperature humidity recode instrument.
3.Walk-in test room can choose computer for remote control according to the function
4.Automatic select the refrigerating circuit, the automatic control instrument can automatic choose operate refrigerating circuit's function according to the temperature set value, and direct-on line starting refrigerating machine in high temperature condition which can cooling directly.
5.The interior door is equipped with big observation window which convenient for viewing the test status of specimen.
Trade Information
shenzhen

1-10 Sets Per Month
30 Days

Each set protected with resin fiber and PP film, then put into Strong wooden case with operation manual and video inside.